Kenai River Sockeye Salmon Fishing
Kenai River Sockeye Fishing (Red Salmon)
Red salmon are considered my many to be the best eating of all the salmon. With the exception of pink salmon, sockeye are the most plentiful. They come back into the stream where they were hatched by the millions. These fish are also the most sought after by the commercial fishing fleet. The limit on sport caught reds is three per day, unless increased by emergency order from the Department of Fish and Game. Many people believe that these fish do not bite the hook but instead you must try to hook them in the mouth as they are swimming upstream.
You catch these fish using deer or caribou hair tied to a hook. You can also use a piece of colored yarn. You flip your line upstream close to the bank and then pull it back in by simply drawing up the line, similar to fly fishing, and then flipping it out again. This process is continued over and over until you've caught one or given up. It is not uncommon to accidentally snag one of these fish in the back, belly or dorsal fin.  If this happens, you may have your reel spooled and have all your line going downstream trailing behind a sockeye. There is a knack to catching reds, one this lodge owner doesn't have.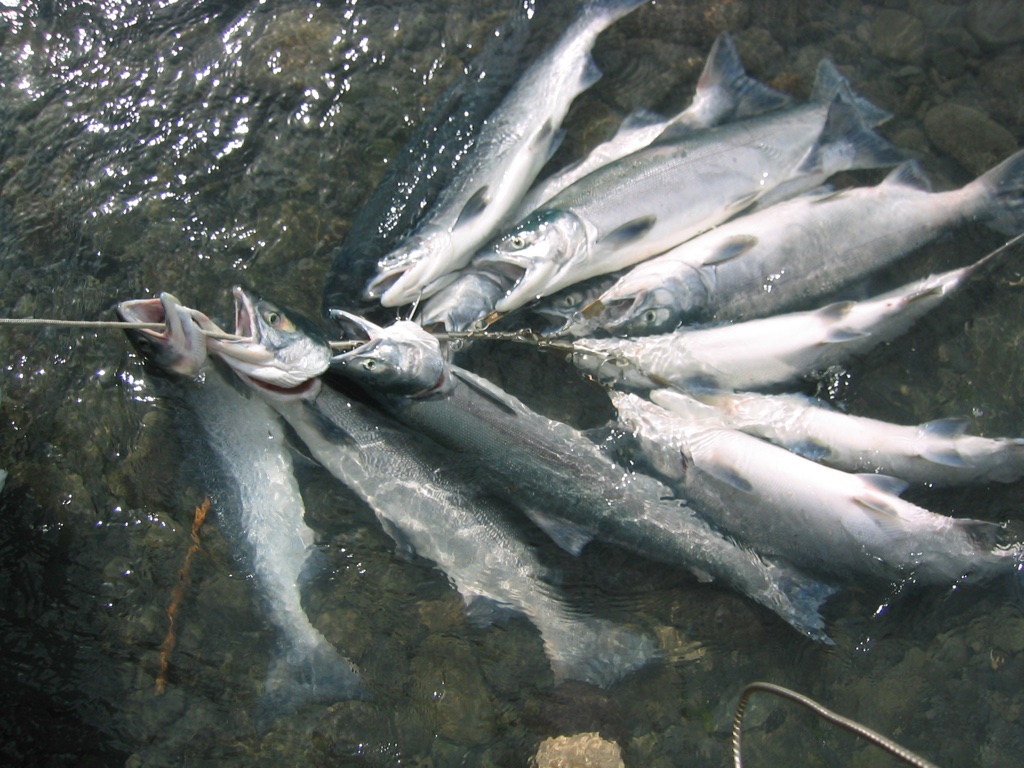 The flesh on a red salmon is much darker red than on the other salmon and they tend to have more oil in the meat. The taste of a red is very distinguishable and considered by many to be the best eating of all the salmon. Just like the king salmon, these beautiful fish can be cooked many ways from grilling to baking, etc. On the dinner table these deep red colored filets make a terrific statement. We have had clients who tell us they eat red salmon three times a week.
We have grated walkways adjacent to the river for easy footing while casting for reds; or if one prefers, they can don hip boots and actually stand in the river and cast. One must be careful not to go out into the river too far otherwise the reds will be going behind you. Sockeye fishing is becoming almost as popular as king fishing mostly because they are so plentiful and because you can catch more than one a day. Alaskans tend to fill their freezers with red salmon to help them through the long winter months.…….