Kenai River Silver Salmon Fishing
Kenai River Silver Salmon Fishing (Coho Salmon)
Coho, perhaps better known as silver salmon, are thought by many to be the best fighting of all the salmon. Silvers strike lures and bait, both herring and cured salmon eggs, just like Kings. Silvers are also marked similar to kings.  They have black spots on their backs and on one half of the tail and they have scales.
Different methods of fishing work well when fishing for silvers in fresh water. These include back trolling with diving lures, drifting with spin-n-glows followed by cured salmon eggs, casting with lures, bobber fishing with bait on the bottom, and by casting flies. Once on the hook, these bright shiny fish will tail walk on top of the water. They jump and splash and run across the water trying to get rid of the hook.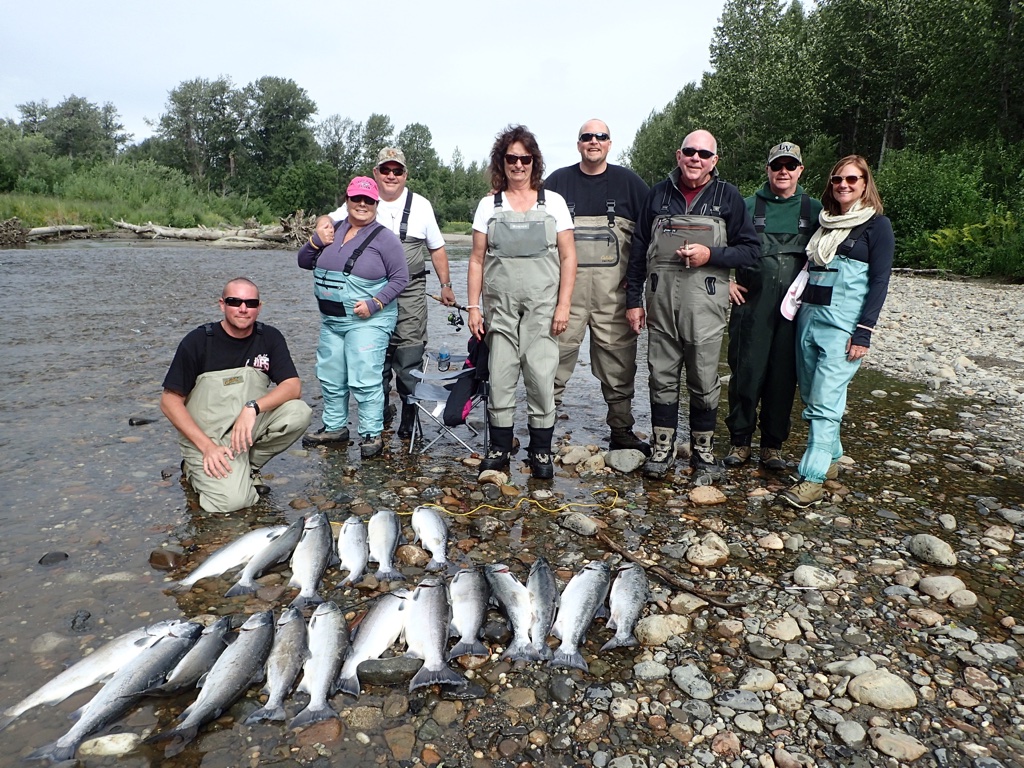 Silvers can also be caught in salt water.  When fishing salt water, the typical method is trolling with a flasher between you and the bait. It is not uncommon for 2 or 3 anglers to have a silver on the line at the same time when fishing in salt water. This can quickly become a fiasco trying to keep the fish separated so the lines don't get tangled.  When you finally tire out a silver and get them to the net, you will see scales flaking off. Most people will scale a silver as part of cleaning the fish before freezing or cooking it. These fish typically weigh in at 12 – 18 pounds. They are very meaty so one filet will typically feed at least three if not four people.
The limit on silvers from the Kenai River is two per day. The limit on silvers in other streams is typically three per day. Once you have caught two silvers in the Kenai River, you cannot fish from a boat in the Kenai River for any other species of fish that day. You can fish from the shore however for other species. Silvers are perhaps the most favorite salmon to catch. Many people come to this area specifically to fish just for silvers.
The daily limit for silvers caught in Resurrection Bay by Seward is 6 per day. This is because silvers in Resurrection Bay are hatchery fish and there is no place for them to go to spawn when they come back into the Bay. They are planted there every year. The limit in all other streams and bodies of water is 3 per day. Don't miss this exciting fishing adventure.