Alaska Fishing Trips for Various Seasons
You can fish from the banks of the river in front of "kamp" for red salmon, trout, and silver salmon, sit around the campfire swapping stories, relax in the hot tub or sauna or spend quiet time alone.
Kenai River King Salmon Fishing (Chinook Salmon)
The Alaska Kenai River fishing season for Chinook Salmon starts in May with the first run of King Salmon weighing in at an average of 35 pounds. We catch these fish in the salt waters of Cook Inlet as well as in our rivers. The second run of Kings weighing an average of over 50 pounds hits the river in July. This is also when the "hogs" are most likely to be found. Every year, many fish are caught which weigh in excess of 60 pounds. King Salmon season closes July 31 unless held over by emergency order of Fish and Game.
For those who want a more wilderness experience or who are fly fishermen, fly-in trips across Cook Inlet to clear water streams or to the Nushagak River are also available beginning mid June through mid July.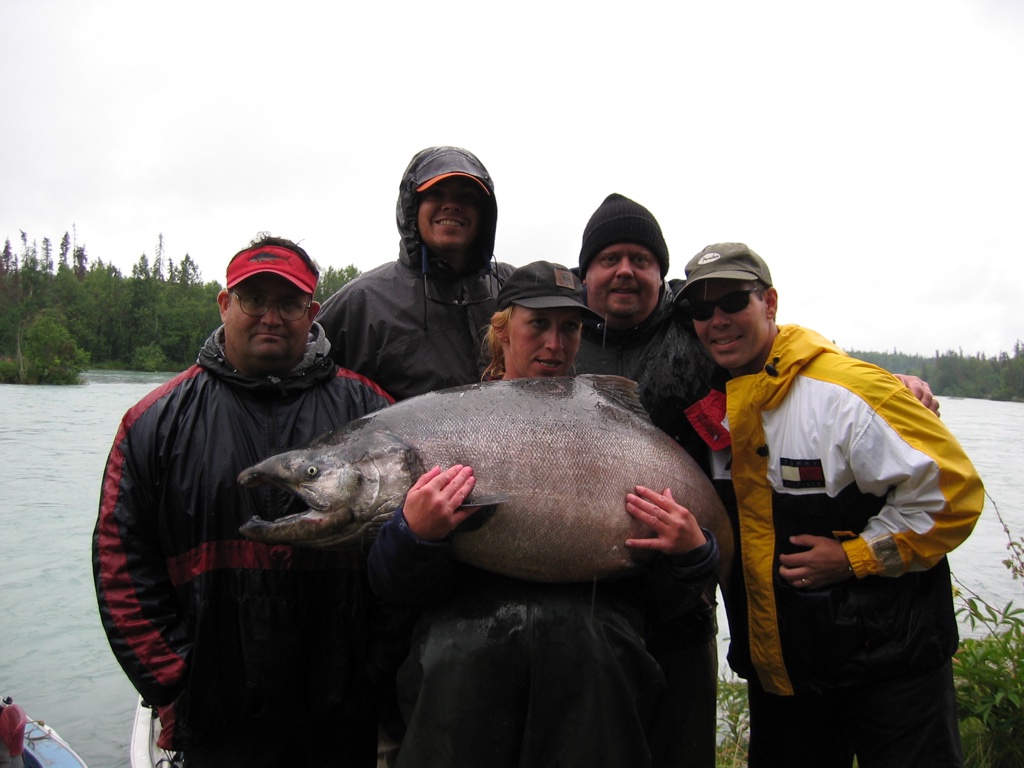 Sockeye Salmon Kenai Fishing (Reds)
The first run of red salmon hits the Kenai River the beginning of June. These meaty fighters weigh an average of 8 pounds and are considered by many to be the best eating of all the salmon.
The second run of reds enters the Kenai in mid-July. These reds are larger weighing an average of 10 pounds. With a limit of 3 per day, these fish provide the angler with a lot of excitement and challenge. Red salmon fishing is also available across Cook Inlet for those who wish to have a more wilderness experience.
Red salmon are generally so abundant in the streams across the Inlet that the bears are frequently fishing in the same areas. It is quite common to have 3 or more brown bears feeding along the same area that you are fishing. Your guide will make certain that the bears do not get too close but just the sight of these majestic creatures can make your Alaska Fishing experience one to remember!
Kenai Silver Salmon Fishing (Coho)
The acrobatic silver salmon begin entering the Kenai River the end of July and are here well into the fall of the year. Pound for pound, these fish are considered by many to be the best fighters of all the salmon. Your limit will be 2 silver salmon each day from the Kenai River and 3 from all other waters.
Silver salmon fishing is also available on a flyout. Silvers enter the west side streams before entering the Kenai system so if you are here the middle of July or later, you should be able to get into some good silver salmon fishing.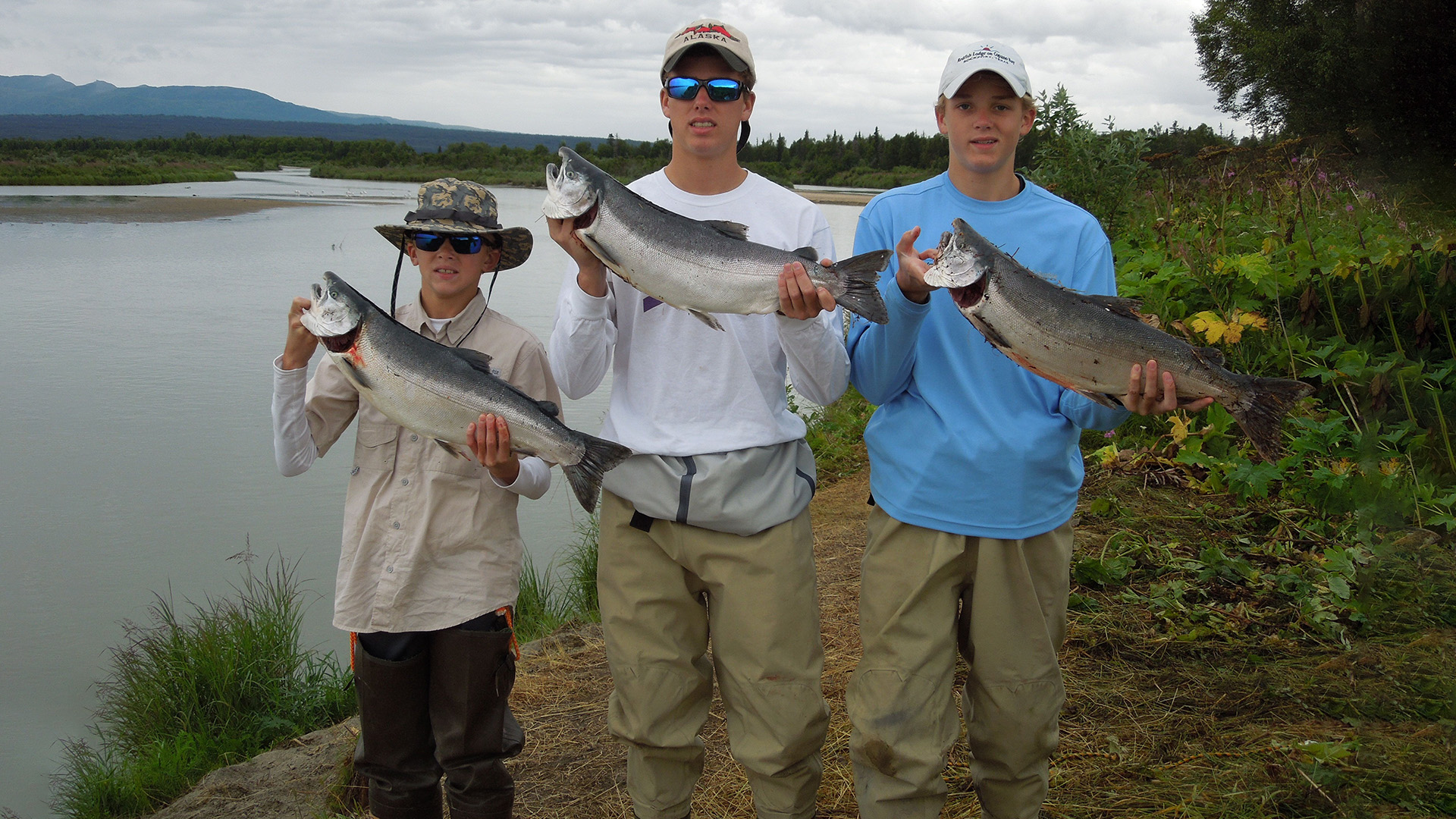 Kenai River Trout Fishing
The Alaska fishing season for Rainbow trout opens June 11 in the Kenai River. The upper Kenai River is clear water and is ideal for fly fishing as well as for spin casting. This is a beautiful journey through a wilderness area and is truly a fly fisherman's dream trip. Rainbow trout fishing in most areas is catch and release. Rainbow trout are also stocked in many Peninsula lakes and these can be kept.
We can also offer flyouts for both Rainbow trout and Lake trout. A trip to Crescent Lake west is truly one of the most spectacular trips you can take here in Alaska. There are many other flyout trips available as well – just ask!
Alaska Halibut Fishing Charters
Kenai Fishing trips for halibut fishing include several choices. Homer, Cook Inlet, Deep Creek, Seward, and Whittier.  The average sized halibut weighs in at around 45-60 pounds but there are many fish caught that weigh in excess of 100 pounds. Halibut are bottom feeders so the best halibut times are when we have the least tidal exchange between high and low tide. This occurs twice monthly for several days in a row.